Auto-saving in OS X
❘ User Interface
As I mentioned a week ago, I have a strong dislike for the "Save" dialogue boxes that pop up every time you close a document. It seems someone at Apple, and by someone I mean you–know–who, agrees with me. The next version of Mac OS X will include auto-saving and applications will automatically resume where they were when they closed.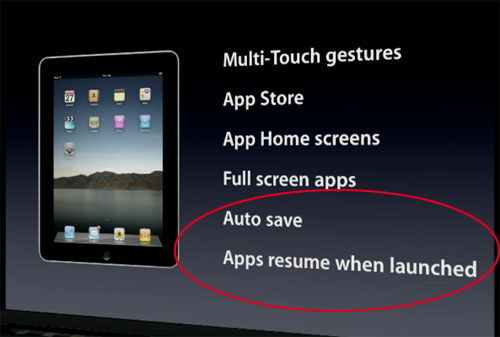 In other words; just like on the iPhone. This looks very promising, as long as they still let the rest of us organise our own work in whatever way we want. The iPhone way of having each document exist "inside" the application that created it works fine for casual use, but for any project or task that requires the use of more than one application it is very restricting. We need to be able to keep different types of files that belong together in the same place.
I'm not quite sure how this is going to work though. So lets say you open TextEdit for the first time. An empty document appears. You type some text, move and resize the window, and close the application. Without being asked any questions about saving, name or location. Later you open TextEdit again, and it opens exactly the way it was when you closed it, with the window in the same position and the same size, and the same text inside it. This is as it always should have been.
But then you close the document. Then what? Does the application close too now that there are no documents open? And where can you find the document again? Will all applications come with their own built-in libraries?
If you want to move the document while it's still open I guess you can select "Move to…" from the "File" menu. Which will have plenty of free space now that the "Save" and "Save as…" items are gone.
Seeing as many (most?) casual computer users don't really understand the concept of files and folders I hope Apple succeeds in bringing some of the simplicity and usability of the iPhone platform over to the Mac, but without sacrificing the flexibility that easy access to the filesystem provides for the rest of us.